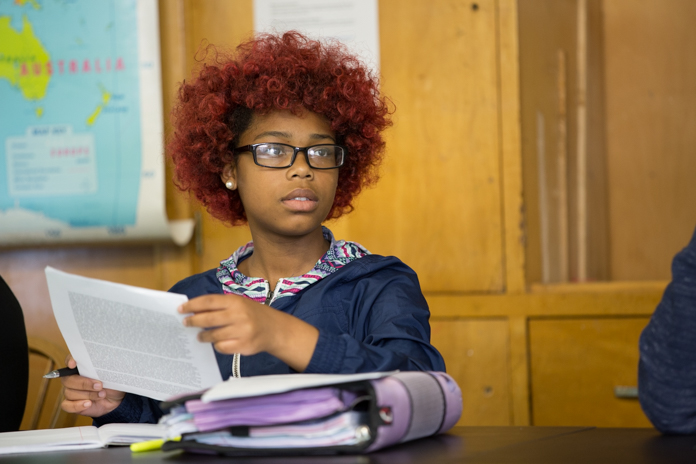 Applying
The Office of Admission at Bard High School Early College (BHSEC) Baltimore is committed to recruiting motivated young adults from across Baltimore City. We seek to admit applicants who demonstrate intellectual curiosity, maturity, and a love of learning.
For Counselors

If you are interested in having a member of the Bard Admissions team come to your school to talk with your students, you can request this through the following ways: (1) you can fill out our articulation request form here, or (2) you can contact our admissions team directly by email Jenna Kadota, Admissions Manager or Ms. Townes, Admissions Assistant. MORE >>
Admissions Process
BHSEC Baltimore admits students through a qualitative application process that includes an interview and a writing assessment. BHSEC Baltimore seeks students who demonstrate academic ambition and intellectual curiosity. BHSEC Baltimore will hold admissions open houses throughout the 2019-20 academic year for the upcoming school year, during which students and families will have the opportunity to learn about the school and the admissions process. This year, we are recruiting 125 students for our 9th grade class and a select number of transfer students into grades other than ninth.
---
Bard High School Early College and the High School Choice Process
Our school is not lottery based, and requires a student to complete our admissions process to be considered for admission. If your student is interested in applying to Bard High School Early College Baltimore, they must complete our application process to be considered for admission. If the student only ranks us on the choice application but does not complete our admissions process, they can not be placed at our school. They must complete both processes: completing our admissions process(interview and writing assessment) as well as ranking us on their high school choice application.
If an accepted student wishes to attend Bard the following school year, we advise them to rank us as high as possible on their choice application. This is, of course, up to the student. If Bard is their first choice, it should be reflected in their choice application.
Open House
Students interested in applying to Bard High School Early College Baltimore, must attend one of our admissions Open House events to begin our application process. The Open House will include presentations from our principal, students, and faculty, along with a Q&A, a student writing assessment, and signup for interviews at a later date.
Admissions Open House Schedule for Students Applying for the 2020/2021 school year:
Saturday, March 14th at 10am
Saturday, April 18th at 10am
Please make sure you register for the Open House beforehand.
DISABILITY ACCOMMODATIONS: BHSEC Baltimore is committed to the principle that no qualified individual with a disability shall, on the basis of the disability, be excluded from admission or the benefits of services, programs or activities at BHSEC Baltimore.If you have a disability and wish accommodations please contact- Jenna Kadota, Admissions Manager, (443)642-5040, jkadota@bhsec.bard.edu at least 3 days prior to your registered Open House date so that you can share your disability documentation and discuss your specific accommodation needs.
---
Nondiscrimination Policy: Baltimore City Public Schools
Baltimore City Public Schools does not discriminate on the basis of race, color, ancestry or national origin, religion, sex, sexual orientation, gender identity, gender expression, marital status, disability, veteran status, genetic information, or age in its programs and activities and provides equal access to the Boy Scouts of America and other designated youth groups.
Nondiscrimination Policy: Bard High School Early College
Bard High School Early College is committed to ensuring equal access to its educational programs without regard to an individual's sex, gender, race, color, national origin, religion, age, disability, gender identity, sexual orientation, or any other characteristic protected by federal, state, or local law.