Sarah Harris's Environmental Justice Initiative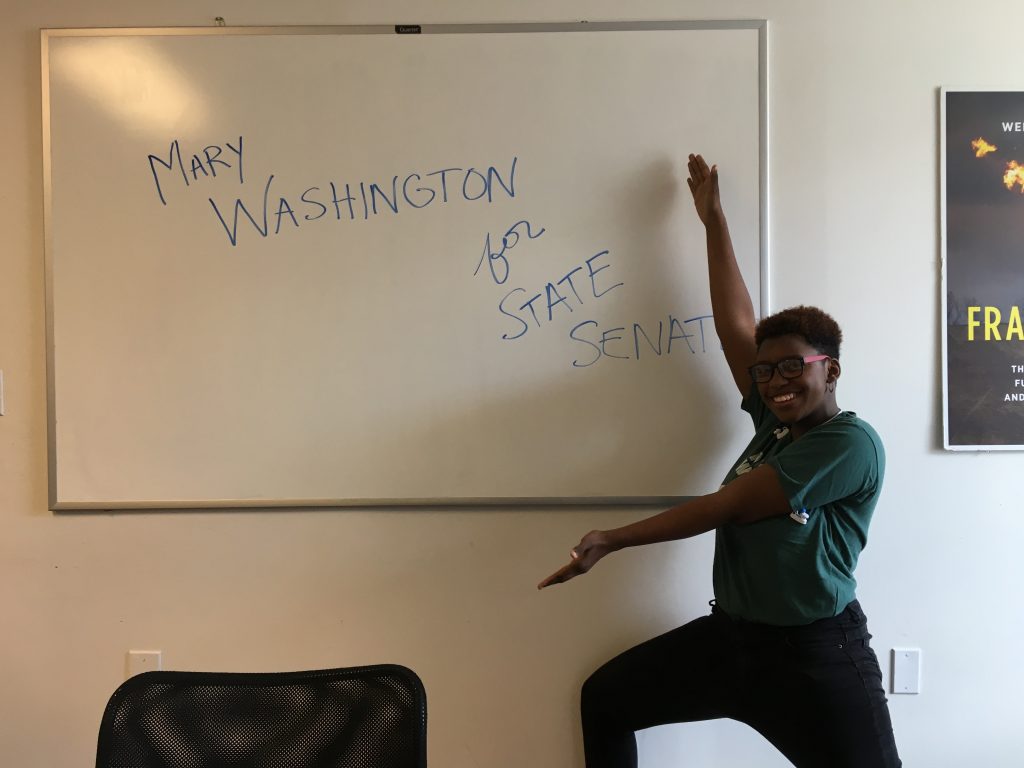 Summer 2018 Blog Post
Going into my eleventh grade year at Bard High School Early Baltimore has prepared me tremendously for starting my Daisy Bates Social Action Project and my new partnership with the Baltimore chapter of Food And Water Watch. Food and Water Watch is an organization focusing on problems with energy use, water privatization, fracking, and factory farming. They find ways to fix these problems through means of press coverage, canvassing, informing politicians, and word of mouth. With the help of my incredible boss Rianna Eckel I have so far done petitioning for safe water and gone to local broadcasted protests to lower the water bills in Maryland.

In the upcoming weeks of my internship, I will be researching the OFF (Off Fossil Fuels) Act, which is a new bill hoping to be passed for 100% clean and renewable energy by the year 2035. We're hoping to get Congressman John Sarbanes to sign onto the OFF bill for Maryland. Along with that, I'll be helping (alongside other activists) to stand up against fracked gas pipelines being put in along the east coast. Being a somewhat indecisive person I've changed my mind many a time the first week on what my social action project would be, but I'm confident in focusing on these issues pertaining to climate change.

For community engagement, I will be assisting with and marching during the People's Climate Movement March happening on September 8th to raise awareness of the dangers of climate change, I will also be making calls and going canvassing to get signatures and support from people for clean, renewable energy in Maryland. In terms of fracking, my goal is to canvas and make people aware of the fracking pipeline being built and the dangers it can cause.

From working with Food and Water Watch, a few skills I've picked out are learning how to talk with people and keep them engaged in what I have to say. This helps a lot during petitioning and canvassing to get my point across clearly to people. I've also learned how to make strategy charts which are essential when planning meetings and rallies.

The most important thing I hope to gain from working with Food and Water Watch is learning how to support and uplift others. Everyone has their own goals they want to reach, and we all have to find common ground to help one another reach our goals. I want to be someone who helps others reach their goals no matter what.

Despite only being at Food and Water Watch for two weeks, I have already fallen in love with this organization. With kind coworkers and a mentor who has your best interest at heart, Food and Water Watch Baltimore has been incredible. My friend and coworker Devon Waddell and myself have learned so much to help us become stronger activists in the future. With an incredible staff behind me and a mentor who makes sure every resource I needed is provided; I could not be more excited to continue my partnership with Food and Water Watch this summer and hopefully beyond.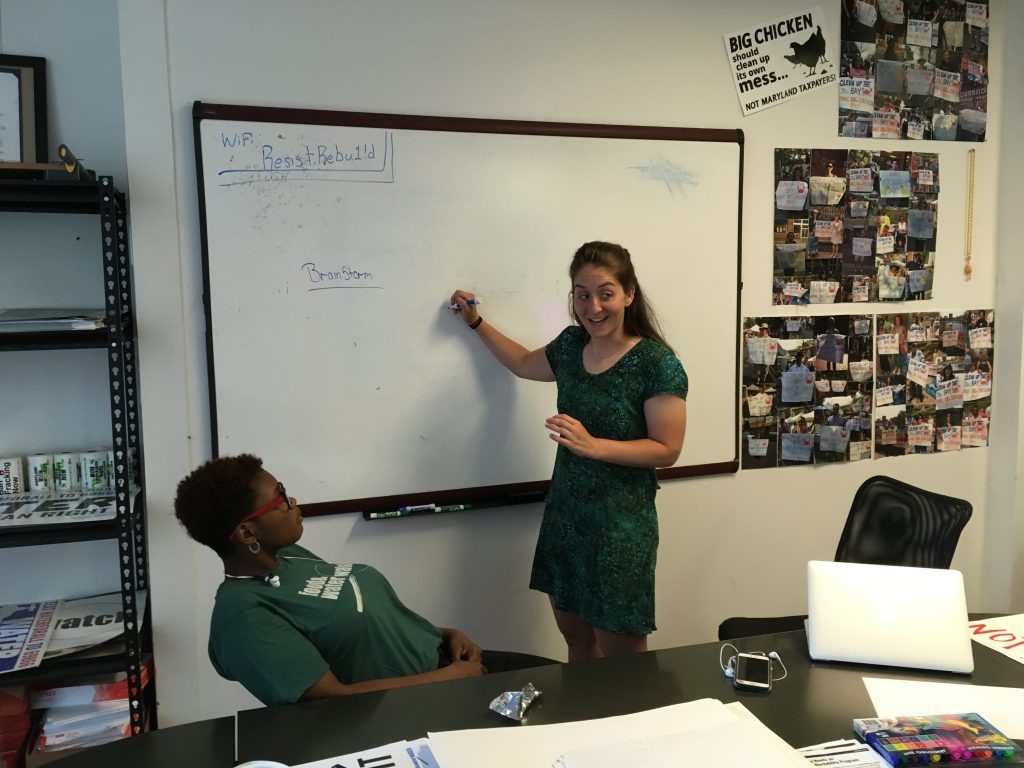 Fall 2018 Blog Post

My partnership with the Baltimore chapter of Food and Water Watch throughout the Summer of 2018 was an experience I could never forget. Not only did it help me build up confidence to speak up on what I believe in, but it also gave me a platform to speak on what I am passionate about. The focus of my Daisy Bates Social Action Project has been to discuss the harms of fossil fuels and educate others on better resources we could use for energy instead of harmful fuels or coal burning. My goal this semester was reached when I held a screening of a renewable energy film called Reinventing Power for students and teachers at my school and talked about why finding new and cleaner sources of energy is necessary now.


One lesson I learned while working on my social action project was to always keep going and fighting for what was right even if people push back and tell you to give up. The first time I went canvassing to get signatures for the Off Fossil Fuels Act I barely got any signatures. People would brush past me, told me I was fighting for something that couldn't be changed with signatures, and that I was just wasting my time standing there. This backlash obviously hurt deeply and even made me consider leaving at a point of time, but after talking with my co-workers I still went out day after day to let people know what I was fighting for and how passionate I was about it and turns out some people believed in me and signed onto my petition happily.


Going into this project I knew I'd have my work cut out for me, but I believe my most major setback was the speaking portion of it. It took me a while to get comfortable with making phone calls and asking people to sign petitions. With a lot of practice and phone calls I started to adjust to talking with strangers, but the same problem arose during a conference with Congressman Sarbanes in hopes of getting him on board with the Off Fossil Fuels bill. I was nervous about this meeting and somehow more nervous on what I was going to say to convince him. When my turn came to talk I had a moment where I faltered and looked at my notes before internally calming down and explaining what I did and why this bill was important. It was nerve wracking to admit but I managed to overcome that hurdle and said what I needed to. Now I have become much better with speaking to others and it has even shown in my school career since I have a much easier time giving presentations.


Next semester I want to incorporate into my project issues of housing in Baltimore and how it affects low income neighborhoods and people of color, especially young people. I want to educate people on this issue because it is something I can speak on and experience first hand. As a teenager living in inner-city Baltimore I want people to know what it is truly like from an insider's perspective. I am also staying in contact with people who have similar passions and goals, keeping myself in the loop of political happenings, and trying to attend as many conferences that I can so that my project can live on at BHSEC Baltimore and be passed down to younger students.


2018 has been an amazing year for me to kick start my passion project through the Daisy Bates Social Action Fellowship and I look forward to continuing this work thanks to the connections I have made and the people who've helped me. I am so grateful to have learned and experienced the power and importance of community and cross-coalitional work.

Queer Black Teen Mental Health Initiatives
In early 2019, three Social Action Fellows gave a presentation on their activism and organizing for BHSEC Queen's Black Lives Matter Week of Action and BHSEC Queen's Mental Health Awareness Day. In partnership with Wide Angle Youth Media, students Brooke Andersen and Joelle Faison created a short film, Void, to address through a personal narrative mental health in black communities across intersections of identity. Student T.E. presented on her work partnering with Harp & Sword Co. to launch their Queer Health Initiative.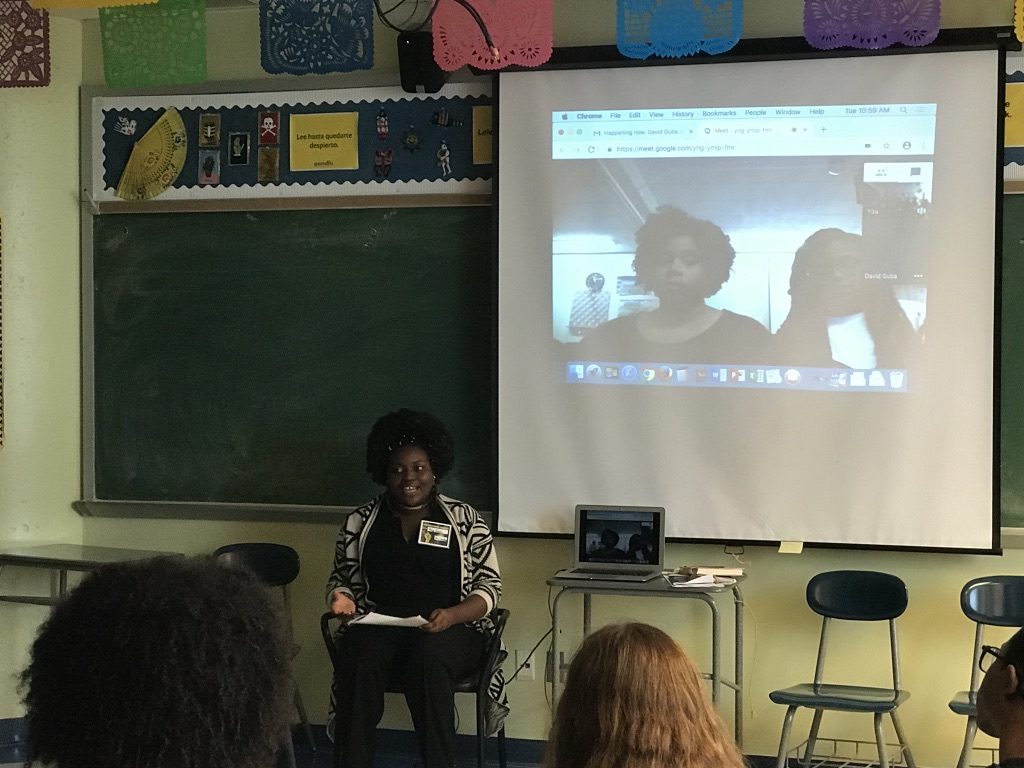 "During the spring and summer of 2018 I was given the opportunity through the Daisy Bates Social Action Fellowship to start my own project that would impact my community. Going into it, I had a lot of passion but wasn't really sure what I wanted to focus on. I didn't have a good sense of what I could do to impact my community that someone else wasn't already doing. So, instead, I thought of something I had lacked growing up that would have been very beneficial to young me in my community. This soul searching led me to focus on mental health in the black community and pair it with my experience as a black, semi-closeted queer woman in Baltimore. To pursue this path, I partnered with the wonderful womxn of Harp & Sword, a local organization committed to bridging racial and gender justice.

This project has really changed the way I see myself in the world. I learned more about the historical and cultural barriers black folks face in accessing mental health resources and care. I was challenged to question everything I was taught growing up. The isolation I faced and the work I've done through this project has made me want to share my knowledge and educate others who experience similar challenges. Most mental health issues go ignored and undiagnosed in under-resourced neighborhoods. If you're struggling to make ends meet, mental health is likely the last thing you're thinking about, but your mental health might be one of the most important factors to address to reduce your problems. My Daisy Bates Social Action Project has taught me to speak up for myself and be vulnerable and vocal about things I struggle with."

-Student T.E.